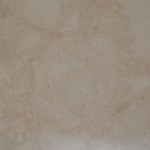 The marbles of Sicily have a type of cloudy marble that has nothing to envy to the variety of clouds of Carrara: the Clouded Cremino.
Like any other Sicilian marble, even the Cremino Nuvolato is used by the building industry for multiple installations ranging from floorings to coverings, through interior or urban fabric.
Characteristics of the Clouded Cremino
Where the Clouded Cremino is extracted
Custonaci is the almost exclusive center of extraction, processing and production of the Cremino Nuvolato. This type of Sicilian marble that is particularly elegant, is expanding the market of the marble quarries of western Sicily, giving the territory of Trapani a recognition in the sector also at the international level.
Composition of

Cremino Nuvolato
The Cremino Nuvolato is a fossiliferous limestone from the family of the well-known Perlato di Sicilia. Its light beige color interspersed with pure white calcite splits gives it that refined look that makes it suitable even for the most elegant settings.
The technical, physical and mechanical requirements of this marble of Sicily, combined with the inevitable aesthetic element, make this marble a unique material, a meeting point between functionality and beauty for urban or domestic furnishings with impeccable style.
Technical features

:
Composition: 97% CaCO3 with traces of Fe, P, Al and Mn oxides

Imbibition coefficient = 0.91

Indirect tensile strength due to bending = 139 kg / cmq

Impact resistance = 30 cm

Thermal linear expansion coefficient = 0.0039

Wear by sliding friction = 0.54

Specific weight = 2693 kg / mc

Modulus of normal elasticity = 705.000 kg / cmq

Single compression breaking load after freezing = 2221 kg / cmq

Single compression breaking load = 2072 kg / cmq
Production
Blocks

Slabs

Marmette of different sizes

Steps / raised

skirting

Particular workings

Street furniture