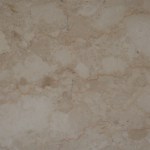 Among the most famous marbles of Sicily and used in construction and interior and exterior architecture, the Cremino has also made its mark, distinguishing itself from the other varieties of cream marble for its characteristics and origin.
Characteristics of Cremino marble
Where the Cremino is extracted
The Cremino is a precious marble extracted, worked and produced almost exclusively in the area of Custonaci, in western Sicily. It is a type of marble that belongs to the same family of the famous Perlato di Sicilia and that boasts a variety of remarkable use.
Used in modern building for numerous outdoor applications, Cremino marble lends itself perfectly to urban and interior design, thanks to its technical and aesthetic characteristics.
Composition of the Cremino
The composition of Cremino marble is essentially composed of fossiliferous limestone. Hence the characteristic color  beige clear with particular white patches of pure calcite and elegant veining irregular orange that make it a truly refined marble, but not for this not very functional.
The chemical characteristics of this variety of Sicilian marble, together with the mechanical and technical ones, allow in fact many options and fields of use, further expanded by its great decorative value, for a material that uniquely combines appearance and practicality.
Technical features:
Composition: 97% CaCO3 with traces of Fe, P, Al and Mn oxides
Absorption coefficient = 0.92
Indirect tensile strength due to bending = 142 kg / cmq
Impact resistance = 31 cm
Thermal linear expansion coefficient = 0.0040
Wear by sliding friction = 0.57
Specific weight = 2693 kg / mc
Modulus of normal elasticity = 705.000 kg / cmq
Simple compression breaking load after freezing = 2231 kg / cmq
Simple compression breaking load = 2112 kg / cmq
Production
Blocks
Sheets
Marmette of different sizes
Steps / raised
Skirting
Special workings
Urban furniture